My Name is Tonya Tittle, MS., ACSM- Owner of Energy Fitness & Voted Hot Spotter (Best Trainer)
2010 Readers Choice, Memphis Magazine, Memphis Health & Fitness Best Trainer several years in a row and Best Boutique Fitness Studio top 3 for several years in a row as well along with other readers choice awards in our 16 + years serving Downtown Memphis.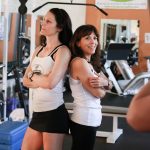 Together we can Get Your Body Back or Get the Body You've Always Wanted! Please complete our
No Obligation Free Consultation web form Today!

5 Tips to Consider When Choosing a Personal Trainer:
1.) Contemplate your goals and select a trainer that will educate, support, and coach you to ensure your success.
If you are trying to lose fat and gain muscle; choose a trainer that has a proven track record in reshaping bodies.
2.) Certifications and Degrees– What does it take to call yourself a personal trainer?
Not Much! Beware of weekend or three day certifications. You can even become a trainer for only about five-hundred bucks. This field is very unregulated and your "trainer" may be doing more harm than good or worse, seriously injure you. Find a trainer that has a degree in a health/fitness related field and/or a certification from ACSM (American College of Sports Medicine), NSCA (National Sports and Conditioning Association), or Cooper Institute. These are recognized to be the best certifications in the industry. I often look for these certifications in trainers that I hire. If they do not have one of these certifications then they go through intense training with me to learn my Energize Method of Training that incorporates scientific principles to get our clients results quickly and safely.

3.) Are they certified in CPR?

4.) Personality!
You have to be able to at least get along with your trainer. Also, any good/competent trainer with any longevity in the business will have a website. Go check them out for a digital "first impression".
5.) Set up a meeting or consultation.
Nothing beats a face to face visit.
Why Personal Training Works!
accountability – We educate, support, and coach you to ensure success
science – There's no gimmick – our "energize method" turns your body into a fat burning machine.
track record: Since 2002 we've helped over 1,600 Memphis area residents lose weight, look great, re-gain energy and self confidence
structure & consistency: We keep you on track so you see and feel results quickly!
efficiency: We know you're busy. our 30 minute sessions are focused and targeted
customization: We customize your program based from your fitness assessment using our copyrighted proven results Energize Method Protocol cards.  We make adjustments necessary to account for injuries and bio-mechanical limitations.
Struggle No More
Going it alone doesn't work
Energy Fitness Personal Training Does!
100% Guaranteed

Yours in Health,
Tonya

Call us to be our next success story.
901-466-6242
OR
Schedule a Free Consult Today: 
Our Mission is to Inspire Optimal Health & Wellness through: Empowerment, Education, Coaching, and Training in a Safe and Non-Intimidating Atmosphere.
PERSONAL TRAINER CAREER PATH LINK: https://www.learnhowtobecome.org/personal-trainer/