It's ON ….and coming OFF!!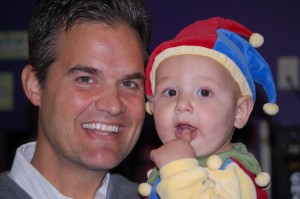 I'm referring to a fat roll, specifically my belly! Love handles are too cute and table muscle is too clever. Spare tire is accurate depending on the size of the tire.
I'm Mark Tittle (Co-Owner of Energy Fitness and husband of Tonya Tittle (you've heard of her?)) and I'm writing this on 1/1/11. A perfect day think about me for a minute, to focus on my health and set some new goals for the New Year…I've finally reached my limit.
Follow this blog or join me please during the next 15 weeks to see if I really can finally, once and for all, drop twenty pounds and make my waistline small(er).
I've proven time and again I cant do this on my own; it's time to seek some serious help very close to home.
Tonya has graciously agreed to help me, but according to her rules.
The Rules:
Blog about my experience at least twice a week
Complete a Hormonal Health Profile (really!)
Train with her twice per week
Follow her program and nutritional advice
Detoxify my body (whatever that means…)
Why you may be interested:
It's the New Year and many are beginning resolutions. Misery loves company.
It could be a train wreck that you can't keep from watching
If the owner of a gym with a trainer for a wife can't do it; how could anyone?
I may succeed (YEAH!) and give you a little more motivation.
Just like everyone my life goes back to normal very quickly.
My day job is in Medical Sales for Beckman Coulter and right off the bat I have a huge hurdle. The second week of January one of our medical/surgical supply distributors is hosting their National sales meeting on a cruise ship headed to the Bahamas and I'm not only expected to be there but to be "Good Time Charlie" of course. Dang!
Talk with you later this week.
Be Well!
Not a client and want a Free Fitness or Nutrition Consult (value $87) or
interested in our Personal Training Services click here or call us 901-466-6242.
Check out our customized online training ($40-$80) here:  Online Customized Training
Interested in our Massage or Body Wraps? Click here.