Back home from the cruise and down a LB.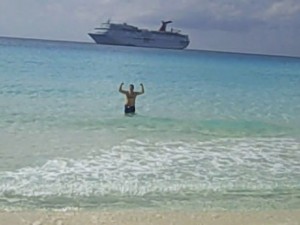 I returned home Thursday afternoon after catching an earlier flight. It was a Sales Meeting and I did work but managed to have a little fun as well : )
My bod and I are not quite ready for a close up yet so the above pic will have to do. I had hiked about two miles to the end of the island (half moon cay) from the beach area and had just finished a quick cool down swim in this pic. AND this was after enjoying the ECO bike/hike tour of the Island that lasted about one and half hours.
As I write this (Saturday morning) I weigh 197. Down one pound from the day I left and 6.5 lbs so far. I have to admit that I thought I would lose more than that on the trip but it was more difficult than I imagined.
I did stay away from anything with any type of grain or sugar as an ingredient (check out primal blueprint book for more on this) – and yes the desserts were very tempting…but I managed to abstain.
However, we were given a "drink card". It is what it sounds like. You can have ANY type of beer wine or liquor ANY time you want from all of the multiple bars on the ship.
I didnt revert to my college frat days and behave like a lunatic on the ship but I did enjoy some nice cabernet in the evening along with a few other cocktails…
I also managed to take one yoga class and otherwise made good use of the very nice gym and rubber running track on-board every day.
I was planning on taking Friday off from exercise and do my best to catch up on all the paperwork I have to do- NO SUCH LUCK.
Having your trainer as a spouse kinda blows sometimes. As she was hustling the kids out the door she was encouraging no insisting that I "go get your clothes on and be at Energy by 7:30- lets go!!) It was a hard work-out but once again after it was over I was ready to take on the day invigorated!!
Im back on track now and enjoyed a steak dinner with my family last night. While they feasted on loads of sweet potato french fries, salmon and turkey burgers I stuck with steak, salad and just a little potato of the mashed variety.
I will keep you posted this week. My next challenge will be Southern California. I leave next Saturday for seven days. Should be OK. Its ridiculously easy to eat well out there and I wont have my "drink card" to mess me up!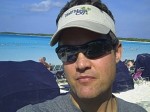 Not a client and want a Free Fitness or Nutrition Consult (value $87) or
interested in our Personal Training Services click here or call us 901-466-6242.
Check out our customized online training ($40-$80) here:  Online Customized Training
Interested in our Massage or Body Wraps? Click here.