Mark Guthrie Successful Transformation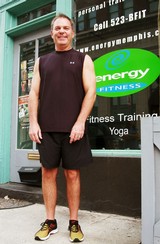 Mark Guthrie, An Ultimate Success Story
For full Commercial Appeal Story click here
Meet Mark Guthrie, he has been working out at Energy Fitness for a year and within that year he has really hit new heights in his workout. If you missed the story the Commercial Appeal ran on Monday, October 24th then let's do a recap for you… the Energy Fitness version. Mark is someone who comes in for his sessions and works hard on the target areas the Energy Fitness trainer has him do. The focus is heavy weights and cardio, for those who are not verse on how the Energized Method works. Mark dropped 45 pounds, 25 total inches, and his blood pressure drastically reduced to healthy levels. Even Mark's doctor phoned to congratulate him on a job well done after reading the Commercial Appeal article.
Not a client and want a Free Fitness or Nutrition Consult (value $87) or
interested in our Personal Training Services click here or call us 901-466-6242.
Check out our customized online training ($40-$80) here:  Online Customized Training
Interested in our Massage or Body Wraps? Click here.