Morgan Guthrie learning from Energy Fitness and her dad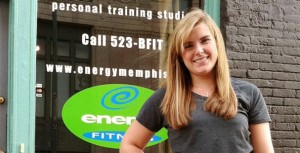 Morgan Guthrie (Mark Guthrie's 17 year old daughter & previously featured success story) found a way to lose weight after being sidelined from Pom Squad with a knee injury.
Click her to see full Commercial Appeal Story
Morgan has done so well with weight training and cardio sprints. She really sticks with it to get the results she wants.
Not a client and want a Free Fitness or Nutrition Consult (value $87) or
interested in our Personal Training Services click here or call us 901-466-6242.
Check out our customized online training ($40-$80) here:  Online Customized Training
Interested in our Massage or Body Wraps? Click here.