Gluten Free Zucchini Bread (Paleo, Dairy Free, low sugar)
My husband asked me to make some Zucchini Bread so this is what I came up after modifying a recipe I found online. Kids liked it & that means success! See ingredients & recipe below.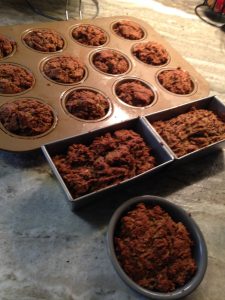 If you follow the recipe below it will make the size of one of the rectangle loaf pan (not much).  I made four batches at once.
Ingredients
3/4 cup almond flour
1/2 cup tapioca flour
1/4 cup coconut flour
1/2 teaspoon baking soda
1/4 teaspoon baking powder
1/2 teaspoon salt
1.5 teaspoon cinnamon
1/8 teaspoon nutmeg
2 heaping tablespoons Monk Fruit Powder ( www.bulkfoods.com – great for bulk nuts and other spices as well) & 1 teaspoon of beet powder (This turns the bread a slight red tint. I purchased from Amazon.com). Original recipe called for 1/2 cup maple syrup.
2 eggs, room temperature (i don't follow this rule most the time as I'm too impatient to wait)
1/2 cup melted coconut oil
1 cup grated raw zucchini (about 1 medium zucchini)
1 teaspoon pure vanilla extract
recipe called for 1/2 cup diary free chocolate chips which I omitted.
I added sesame seeds to one of the batches.
If you want to experiment and add some protein try a rice protein since it withstands heat better. Here's a link to UltraMeal Rice from Metagenics. Use practitioner code efitness
Remember most rice proteins come from facilities that have 5% lead and Metagenics contracts with a farmer that contains less than 1% lead.  This is important because if you get an accumulation of heavy metals in your body it's harder for you to detox and get what needs to be in your cells in and what needs to get out – out!
Instructions
Preheat oven to 350 degrees F.
Lightly grease muffin or small short pans with coconut oil
In a large bowl stir together the dry ingredients in bold above: almond flour, tapioca flour, coconut flour, baking soda, baking powder, salt, cinnamon, monk fruit powder, beet powder and nutmeg.
In a separate bowl, beat together remaining ingredients, in my case eggs, coconut oil, zucchini, vanilla extract.
Stir flour into egg mixture.
Bake for 25-30 minutes or until a tester inserted into the center comes out clean depending on your pan size.
Enjoy!
Tonya Tittle, M.S., ACSM
Owner/Director of Energy Fitness
Onsite Training 552 S. Main, Memphis, TN 38103
Not a client? Live in town and interested in our personal training or nutrition coaching? Click here for a FREE Consult (value $87) or give us a call at 901-466-6242
Check out our customized online training ($40-$80) here:  Online Customized Training
Interested in our Massage or Body Wraps? Click here.