Pain relief supplement that resolves it not just slaps a band aid on it! SPM's by Metagenics
Pain meds are only merely slapping a band aid on pain & inflammation. Resolve it with this product I love to recommend to my personal training and nutrition coaching clients. It's long name is called Specialized ProResolving Mediators (SPM Active) from Metagenics with clinical research behind it.
Check out this short animated video that explains it far better than I can tell you about it.
Specialized Pro-Resolving Mediators (SPMs) and Their Effects on Inflammation from MHICN.com on Vimeo.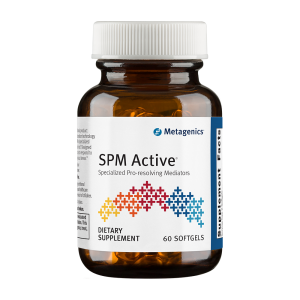 If you decide this supplement is right up your wheelhouse then check out these instructions I received from a dinner education meeting I attended a while back. To order click here but check out the instructions below before you order: 
https://efitness.metagenics.com/spm-active
Order 2 bottles as there is an initial loading phase. You will need to always take consuming a little fat since it's fat soluble. Loading phase is 6 gel caps all at once for 5 days straight. Next, take 2 gels caps at a time everyday for maintenance. Some clients stay at maintenance stage and just order several bottles at a time to keep in stock while others may just need 2 bottles and be good for a while until another insult comes at the body. You will know what I mean by insult after watching the video above.
Shoot me an email if you have any questions energymemphis@gmail.com
To pain relief success!
Tonya Tittle, M.S., ACSM, FLT Metagenics
Owner/Director of Training
Energy Fitness, 552 South Main, Memphis, TN
www.energymemphis.com
Not a client? Live in town and interested in our personal training or nutrition coaching? Click here for a FREE Consult (value $87) or give us a call at 901-466-6242
Interested in our Massage or Body Wraps? Click here.
Don't live nearby or travel a lot? Check out our customized online training ($40-$80) here:  Online Customized Training