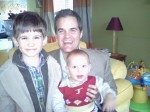 to not make excuses!!
Returned home from Dallas on Friday afternoon. I attended a sales meeting all week arriving on a Sunday. Not only am I tired from traveling most of the first two months of this year but I can't get into any rhythm.
I'm still only down about 11 lbs. I do work out on the road with strength training and cardio, but the constant eating out along with the wine and occasional beer are preventing any further weight loss.
That's about to change as I'm almost finished with all lengthy out of town travel – just my normal two one or two days on the road during the week.
Tonya and I will be enjoying a highly anticipated five day trip to Park City Utah in less than two weeks for some snow skiing, bobsledding, massages and just relaxing…without the kids!! We ARE so excited! And no I don't expect to lose weight on the trip!
So that's about it for now- not much to report other than to say that I've maintained my original weight loss and still feel like losing my goal of 20lbs by April 23rd is doable.
Mark Tittle
2/27/2011
Not a client and want a Free Fitness or Nutrition Consult (value $87) or
interested in our Personal Training Services click here or call us 901-466-6242.
Check out our customized online training ($40-$80) here:  Online Customized Training
Interested in our Massage or Body Wraps? Click here.