Rashmi on how Energy Fitness helped throughout pregnancy
Rashmi stopped by our studio in downtown Memphis with her beautiful 6 week old baby girl to introduce her to our trainers.  We asked Rashmi to share how Energy Fitness Personal Training Studio in Memphis helped her throughout her pregnancy, during labor and after delivery.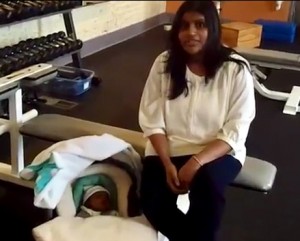 "Absolutely fun place to workout. We have a great time here with Tonya and Lisa. Lisa is my favorite trainer, I trained with her for nine whole months last year. As you can see, I had my baby recently. She's one month old now. I enjoy my workouts here. Lisa has taught me so many different exercises with my condition during pregnancy. She taught me a lot of stretching and it was fantastic. So, please do come here, this is THE place and if you're expecting a baby, you should definitely be here."
Not a client and want a Free Fitness or Nutrition Consult (value $87) or
interested in our Personal Training Services click here or call us 901-466-6242.
Check out our customized online training ($40-$80) here:  Online Customized Training
Interested in our Massage or Body Wraps? Click here.