You likely have come to this page because Tonya is sending you customized self-care stretches from either helping you with fitness, nutrition, massage or swimming. This can be a great resource for you with access to stretches & other helpful info, links and videos to help you achieve optimal health. Also included are links to some of these tools or blog posts.
See below 2 pdf sheets with 21 stretches. Tonya may have texted or emailed you ones that you would benefit you most and of course try any other ones you want to try. If you have rounded shoulders or low back pain/S-curve in your back that can often cause not only low back pain but additionally neck and shoulder pain be sure to click on the back stretcher blog post for additional stretches and this device. Want to know who's giving you this info? Tonya's Bio, Education, Certifications
Scroll to bottom of this page while you pass or check out more info that you may find beneficial for the STRETCHING PICTURES that will rock your world in the best of ways!
Here's other helpful info that has proven a great resource:
To subscribe to Energy Fitness email list for blogs, tips, tricks, special events click here:
FREE Fitness Consult or More Info
Tonya's Online Platform for Fitness Videos to Rent, Buy or Nutrition Plans
How to use a foam roller for aching muscles, reducing muscle cramps and reducing cellulite:
GREAT TOOLS For your recovery toolbox:
Accupressure ball: Amazon.com: Deep Tissue Massage Ball – Dr. Cohen's Heatable acuBall for Muscle Stress & Pain : Health & Household
Foam roller basic / long 36 inch: Amazon.com : Amazon Basics High-Density Round Foam Roller for Exercise, Massage, Muscle Recovery – 12″, 18″, 24″, 36″ : Sports & Outdoors
Trigger point ball for spine – adjustable double ball: Amazon.com: TriggerPoint MB2 Double Massage Ball Roller for Back and Neck Relief Green/White/Black, One Size : Health & Household
Now Sports Magnesium spray for muscle cramps or restless legs: Amazon.com: NOW Solutions, Magnesium Topical Spray, from the Ancient Zechstein Seabed, Highly Concentrated, 8 Fl Oz (Pack of 1) : Health & Household
Cupping pods – stationary: Amazon.com: Silicone Cupping Therapy Sets Cups Massage, 12pcs Professional Vacuum Cupping Anti Cellulite Suction Cup for Facial Body Massage, Deep Tissue, Myofascial Release, Pain Relief, Muscle Relaxation : Health & Household
Cupping – dynamic or stationary: Amazon.com: QISEEYA 6 Pieces Cupping Therapy Set-Silicone Cupping Therapy,3 Sizes Professional Studio and Home Cupping Set,More Potent Suction,Suitable for Cellulite,Joint Pain Relief,Myofascial Massage (White) : Health & Household
Cupping – dynamic or stationary (different style): Amazon.com: Cupping Therapy Sets, 7 Pcs Silicone Anti Cellulite Cup Vacuum Suction Cup Blue Massage Cup Facial Cupping Sets Body and Face Massager Cupping Kit for Arthritis, Pain Relief, Relaxation (Blue) : Health & Household
Calf Rocker Stretcher: Amazon.com: ProHeal Foot Rocker Calf Stretcher with Spiked Ball Massager – for Plantar Fasciitis, Achilles Tendonitis – Calf, Foot, Heel, and Ankle Stretcher – Lower Leg Pain Relief – Blue with Yellow Ball : Sports & Outdoors
Back stretcher/Pec Minor Stretch Blog post with pics https://energymemphis.com/2022/07/15/love-this-device-for-chest-opening-better-posture/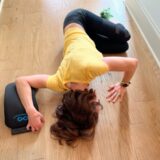 here's link to device: Amazon.com: Everlasting Comfort Back Stretcher for Lower Back Pain Relief – 88 Acupressure Nubs Plus Removable Cushion – Adjustable Lumbar Back Cracker, Spine Board, Back Arch Support for Spinal Stretching : Health & Household
Cupping Therapy for Cellulite Reduction & More mobility or stuff fascia
Tight Psoas (large hip flexor muscle) can cause low back pain and/or digestive issues.
How to Fix Duck footed gait (helpful if your legs/toes/knees turn out when lying on your back). Exercises video with resistance band. https://energymemphis.com/tag/corrective-exercises-for-toes-turned-out/

Come check us out when we are back onsite after construction has finished. By appointment only!
Energy Fitness, 898 N. Hwy 25 Bypass, Greenville, SC 29617 (Travelers Rest area)
901-466-6242 (voice & text box)
www.EnergyFitness-SC.com
Training the South Since 2002