No more neck pain for Memphis news reporter Lauren Ready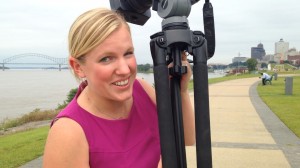 Neck & shoulder pain goodbye. Hello strong core! Lauren, a local Memphis WMC TV news reporter & Energy Fitness client starting talking about her awesome functional results that help her perform her job well. She was filming me for the GetRiverFit Grizzlies River Fitness trail in Tom Lee Park carrying this awkward tripod and camera. I commented on her great posture & biomechanics so we paused to capture her success story to motivate and inspire you.
If you want to be free from neck and shoulder pain like Lauren or just get toned and feeling better give us a call for a FREE Consult (Value $87) at 901-466-6242 or click here to register.
Check out our customized online training ($40-$80) here:  Online Customized Training
Interested in our Massage or Body Wraps? Click here.