Back De-Seizing Exercises from Memphis Trainer Tonya Tittle
Energy Fitness personal trainer, Tonya Tittle in downtown Memphis, shows you how to help reduce or eliminate back pain.  If you are you having problems with your back affecting your movement or workout routine click on the video below and follow along?
I've uploaded an 8 minute video to YouTube filled with exercises that will increase your spinal flexibility thus reducing back pain. You may also click on the pdf  so you can have a hard copy when you might not have access to the video.  Click here for follow along pdf.  My favorite of all the stretches is the one below, notice how my bottom leg is holding my foot down increasing the hip/glute stretch to increase effectiveness.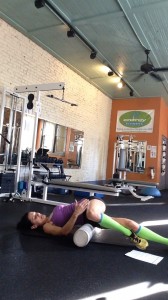 Stretches and exercises are only part of the equation for a healthy back.  Regularly consuming foods that are high in Omega 3s (such as fish oil or flax seed oil) are helpful in reducing inflammation.
Not a client and want a Free Fitness or Nutrition Consult (value $87) or
interested in our Personal Training Services click here or call us 901-466-6242.
Check out our customized online training ($40-$80) here:  Online Customized Training
Interested in our Massage or Body Wraps? Click here.
FREE parking.