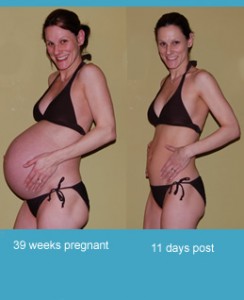 The before picture is of Tonya 39 weeks pregnant. She gained 35 lbs and had a 41 ¼ inch waist.
The after is 11 days post (delivering a 10 pound baby 1 week early), lost 25 lbs, waist 30 inches
Tonya Tittle
Not a client and want a Free Fitness or Nutrition Consult (value $87) or
interested in our Personal Training Services click here or call us 901-466-6242.
Check out our customized online training ($40-$80) here:  Online Customized Training
Interested in our Massage or Body Wraps? Click here.