Back pain is no longer an issue!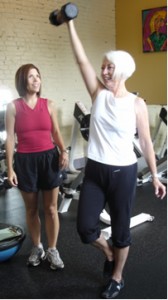 "At age 35, I ran a half-marathon & really enjoyed it. Unfortunately, I suffer from back problems. At one point I was in a wheel chair & had to use a motorized cart to get through airports. That experience was very humbling. My neurologist told me that I needed to strengthen my core. I knew that I had to take control immediately, so I hired Energy Fitness to maximize my experience & teach me how to exercise correctly. Now I am running half-marathons & placing in my age group. Back pain is no longer an issue. So, for me, Energy Fitness training is a win-win in lots of ways. Thanks Energy Fitness!"
Sharon Leichum
Age 67
Memphis Farmers Market, Writer
Not a client and want a Free Fitness or Nutrition Consult (value $87) or
interested in our Personal Training Services click here or call us 901-466-6242.
Check out our customized online training ($40-$80) here:  Online Customized Training
Interested in our Massage or Body Wraps? Click here.