As a runner of 25 years, I had knee problems before coming but with the help of Tonya I now have my body figured out . . .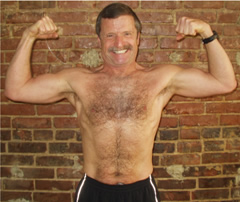 "I have been running for 30 years. My love of running was in jeopardy when the knee pain started. I couldn't run without persistent pain. Since working with Energy Fitness, my core strength has improved, I have developed and see much more muscle definition, I can now do speed workouts again without shooting knee pain, and I can compete in my age group in road races. It sounds silly but I looked in the mirror, flexed, saw my muscle definition and said aloud to myself, "WOW ! I never had this before."

">
Larry Garner
Age 58
Not a client and want a Free Fitness or Nutrition Consult (value $87) or
interested in our Personal Training Services click here or call us 901-466-6242.
Check out our customized online training ($40-$80) here:  Online Customized Training
Interested in our Massage or Body Wraps? Click here.