Accountability for Fitness.. Trainer, Friend, Family or Canine
Over and over again at Energy Fitness we have prospective clients as well as active clients tell us they need accountability for fitness and nutrition. Think about it, only fifteen percent of the population are regular exercisers which is defined at exercising three times per week minimum of 30 minutes. American College of Sports Medicine guidelines states that  healthy adults aged 18-65 yr should participate in moderate intensity aerobic physical activity for a minimum of 30 min on five days per week, or vigorous intensity aerobic activity for a minimum of 20 min on three days per week. Be honest, how often do you regularly do these guidelines?
Did you know that having a workout buddy or hiring a trainer you are 7 x more likely to stay on track and make it happen? Here are a few reasons that adding that accountability can be useful:
fun
safer
variety
a break from life
someone to celebrate with
friendly competition
Here's a look inside a fitness minded family
in hopes of inspiring you!
For this post I'm mixing in all the reasons to either exercise with a buddy or hire a trainer. Thanksgiving this year 2020 (The year of Zoomsgiving!) our family had a family dinner consisting of two adults and two boys grades 9th and 5th. The 9th grader, Laken said the day before "I think we need to go to a bike park Friday because I'm gonna have thousands of calories on Thanksgiving and need to work it off!"
Well about two hours after lunch the adults insisted on a casual bike ride.on the Swamp Rabbit Trail. I suggested the family see a fitness park I discovered a few weeks ago. Turns out we got competitive as usual as well a making it fun and thought we would show you and maybe inspire you as well. We all celebrated the fun feats of strength and endurance we could do at a local fitness park called Chris and Kelly's Hope Fitness Park  in Travelers Rest, SC. If you live in Memphis I have seen one of these parks over near Leftwich tennis center and right next to The Links at Audubon golf course, it's called Fitness Zone (pic below). These types of parks are great as they have different stations in which you can use your own body weight as resistance.
I tried the lat pull down machine then started showing off and did it one handed.Fyi.. I already ran and lifted that morning and now back at it again as I had more desserts than needed!
Laken, our 6 ft 135 lb 9th grader got on the Chest Press before me and said it didn't work. Well Mama had to get on and show him how it's done and that it was indeed working. I was pleased to do it considering I don't typically bench press or leverage my own body weight of 124. As you can see it was hard and I squeezed out 2 reps. Mark, my husband got on it and was killing it, likely this will be his new favorite extra weight day activity on a weekend bike ride to challenge himself.
Then we moved onto the monkey bars and more feats. We had a family competition all starting at the same time who had the best grip strength holding their bodyweight whilst hanging. Laken thought for sure he would be the winner but alas I outlasted then and finally stopped at just over 90 seconds. I had cycling gloves on in which Laken said, no fair she's got gloves on. A rematch likely to occur! I will still beat him as he doesn't know in college I outlasted everyone in my class including the men in a flexed arm hang competition. The kids think their parents are old and they will win at all fitness feats so I decided to show off a little flexibility as well.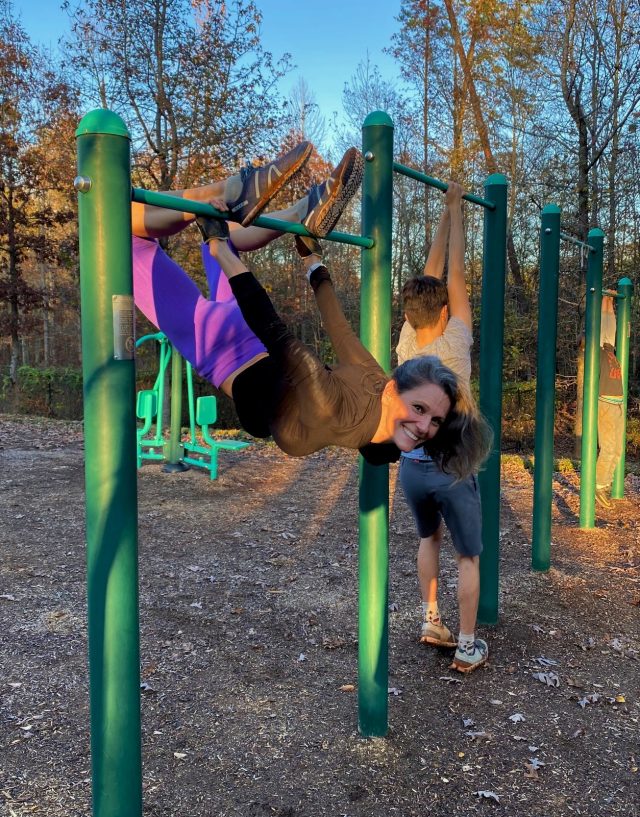 After the park we passed by a small asphalt track in which the competition still continued. Oliver has been bragging for weeks that he can beat me in a foot race. Well, he is right both kids beat me in the sprint. Then I challenged him to a lap and he said you have more endurance you will beat me. Laken won fastest .13 of a mile while I was second at a 6:47 pace and Oliver was in the dust.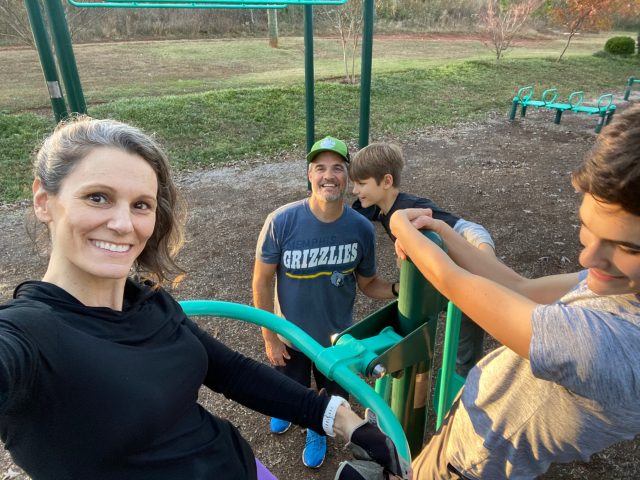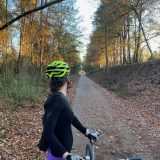 Then it was time to cycle home with nature and feelings of accomplishment and joy for great family time and gratitude for good health! We have a new puppy so upon return it was her turn to get some exercise and go for a short walk. She simply refuses to walk and just lays down in protest. What!!!! Doesn't she know she's part of a fitness family. We gotta work on this as it's simply not acceptable. So when I mention Canine for accountability in the title of this blog post you may wish to make sure the dog you get if your goal is to be more active will be a breed that helps you stay accountable and likes to go on walks or runs!
CLICK HERE IF YOU WANT A FREE VIRTUAL OR ONSITE FITNESS CONSULT (VALUE $87) OR IF YOU ARE READY TO MEET ONSITE FOR OR OUR PERSONAL TRAINING OR MASSAGE THERAPY SESSION….

GIVE US A TEXT OR CALL AT 901-466-6242 or email us at energymemphis@gmail.com
552 S. Main, Downtown-Memphis, TN 38103

We are following local covid guidelines as well as maintaining our current disinfectant procedures. You will have to sign a Covid19 release form, wash your hands upon arrival, etc.