Want Tone & Tight Core? Pick Your Program Starting at $5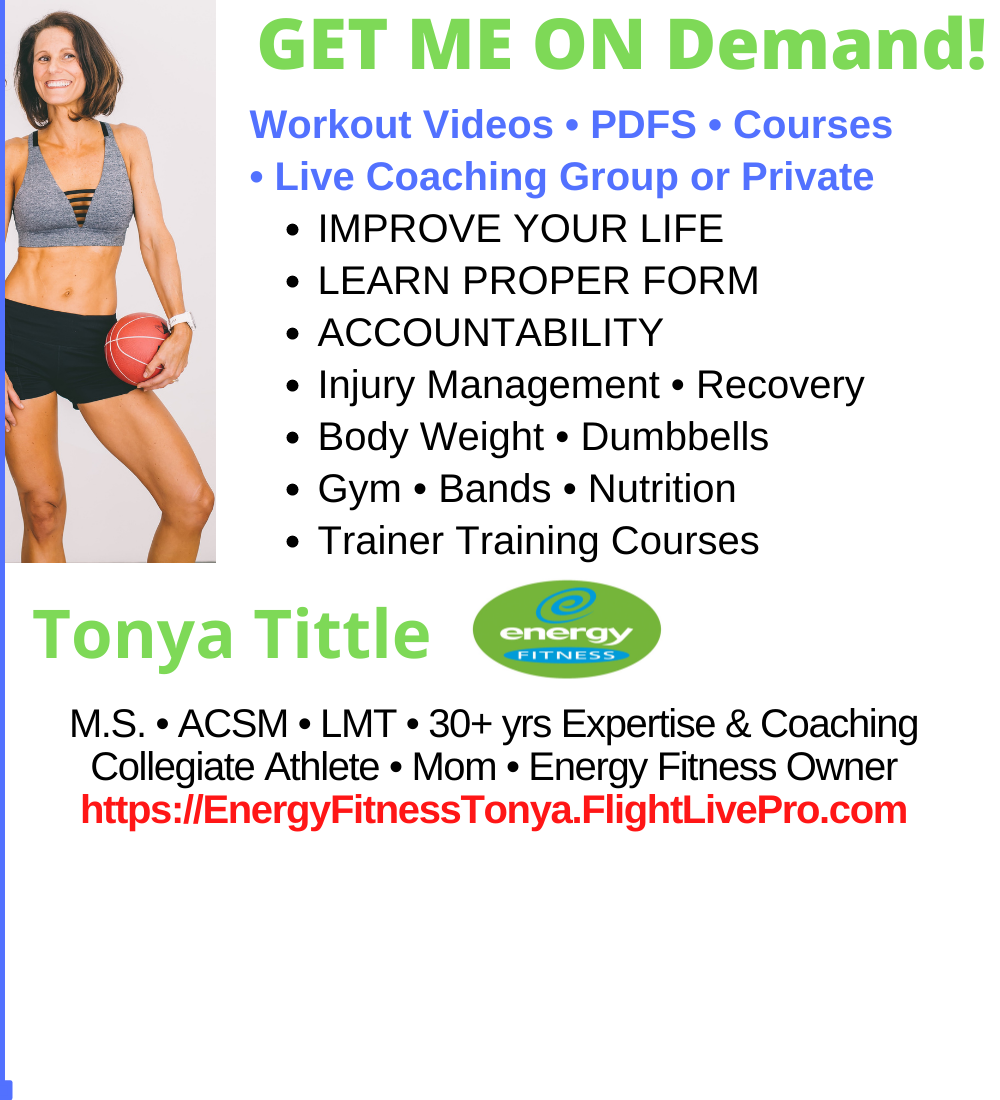 Get ready or start now getting Your body tight and toned! There never really is a good time to start working out so just start somewhere and with our guidance. It's never been easier to workout at home or the gym with a selection of ON DEMAND Videos and written workout plans.
I've been creating custom programs for numerous clients for the past 2 years and sending them video demonstrations of how to do them. This platform is going to be a money saver for many and a go to for others for professional advice. 2 custom programs with video demo is valued at $150.
Save money and Get Results from Award Winning Trainer and Studio Owner!
Affordable ($5 to $119)
Chose your own or pick the 12 Wk Transformation Program
Rent or Purchase programs
Accountable to yourself & your goals
Work around injuries
Pick your level of fitness (beginner, intermediate, advanced, competitive athlete)
Work at your pace
Home or Gym Workouts
Minimal equipment to in gym equipment
Easy to follow
Purchase Follow along or Demonstration
Meal Plans included with some programs
Behavior change videos included with some programs
More videos, programs and meal plans coming soon
Step 1: Register and get ME ON DEMAND www.EnergyFitnessTonya.FlightLivePro.com
here's what the welcome screen looks like: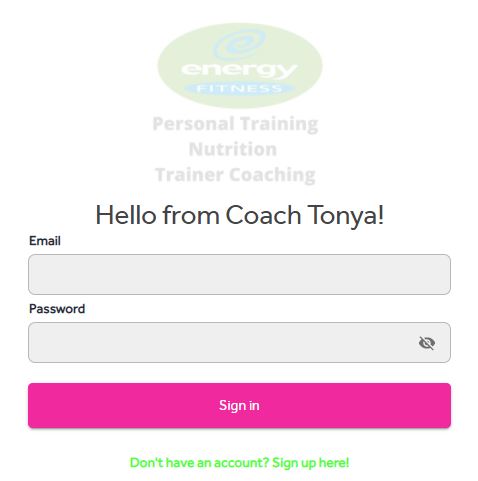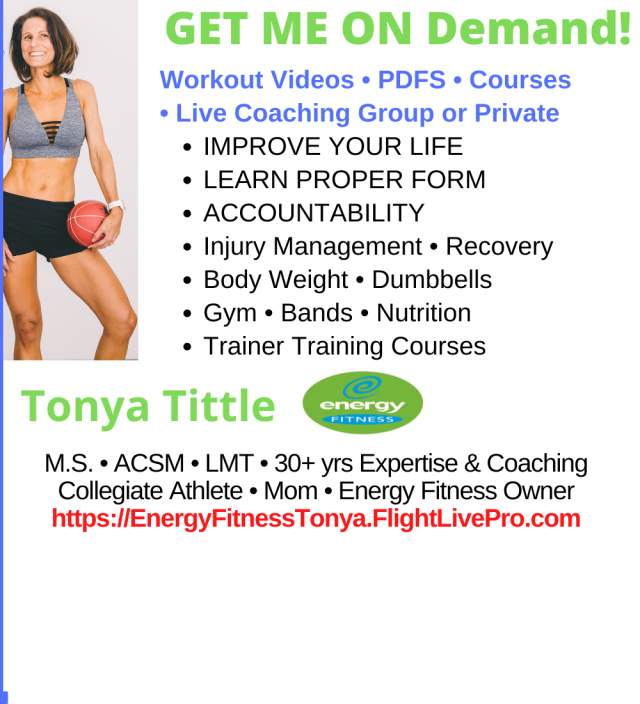 Step 2: Scroll around the platform & Pick the right program(s) for your goals!
Step 3: Do the workouts 2-3 times per week
Step 4: Choose a new plan every 6 weeks
Step 5: Reach out via email for support, virtual functional fitness assessment, injury management or questions: energymemphis@gmail.com
CLICK 
HERE
IF YOU WANT A FREE VIRTUAL FITNESS CONSULT (VALUE $87) or Custom strength training program starting at $75. If you are local and want to start now. Just give me a call 901-466-6242 and we can get you started with a functional fitness assessment and a few things to do on your own before the Travelers Rest location is up and running. Swwwouth Carolina Energy Fitness relocated site update: Framing is up for showers, bathrooms and massage rooms and framing for exterior windows. Still figuring out where boxing bag will hang. It's coming together albeit slower than I want but I am keeping patient as it will be awesome.
While you wait for onsite or if you don't live in the area, why put off your fitness…..I might even let you come to my home office and do an assessment and discuss your health needs. All it takes is a call. Maybe you can be one of the charter clients for South Carolina location like a recent call that is now on my books for TPI functional movement screen and home program. LET'S GET MOVING!
If you haven't had a functional movement assessment with a professional observe the way you move different joints and movements with your hips, shoulders, and spine then how do you know you are doing the most effective strength training, flexibility or cardio program? Hire someone like me to get you on track with a program to help you reduce current pain, eliminate pain, improve your current program or enhance your athletic performance.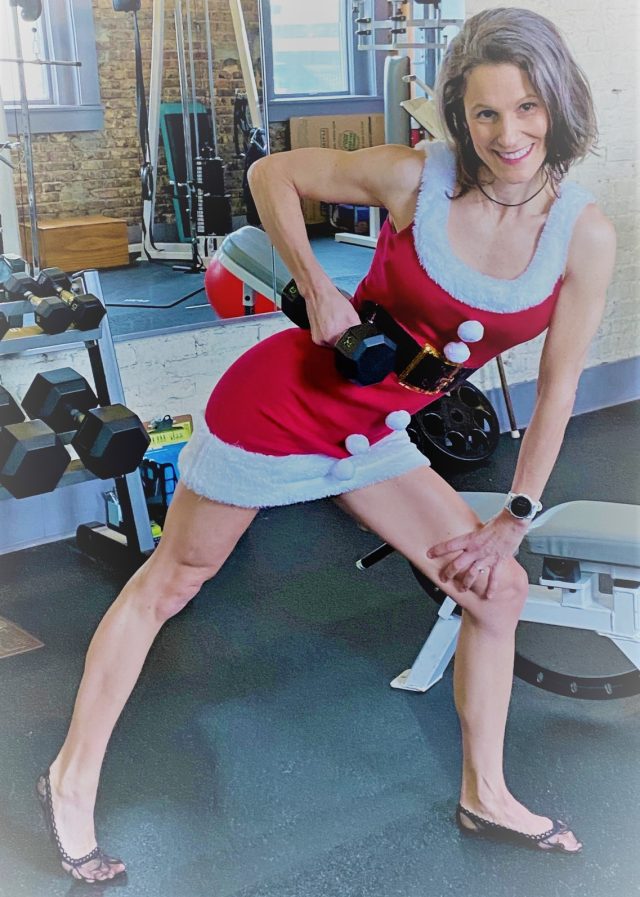 Tonya Tittle, M.S., ACSM, LMT, TPI Level 1
Energy Fitness
Owner/Dir. of Training