Daily Weigh-Ins Pros & Cons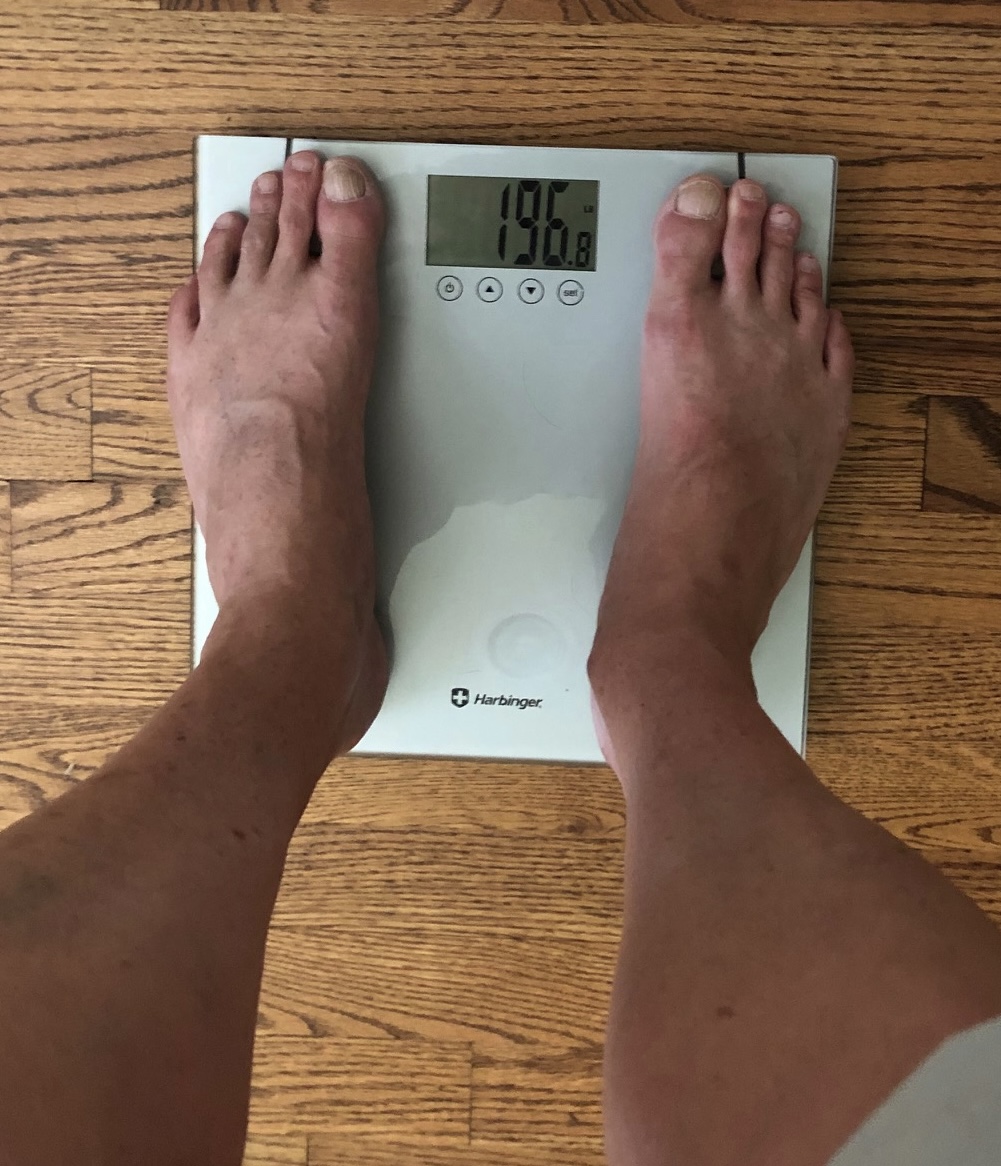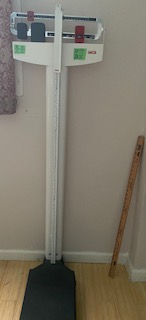 How often do you weigh yourself?
Do you even have a scale? I have spoken on this many times and tend to steer away from telling clients to weigh everyday as there is such a stigma with the scale. YOU should never let the scale set YOUR mood! LET ME REPEAT
"YOU should never let the scale set YOUR mood !"
That's not to say that measuring your weight, circumference, blood pressure, or cholesterol levels isn't important. If you have diabetes, you're monitoring your blood glucose levels on the regular. Nothing is as easy as weighing yourself and can be a good monitoring device when used properly.
How often should you weigh in? This is a matter of much debate. Each one of you may have a preference. Scientific literature may help give you an answer.
Daily weigh-ins are correlated with increased weight loss
You've heard me talk about habits and how we must have good habits in place to be successful at optimizing your health and wellness arena. Studies have shown that people who weigh themselves daily lose more weight than people who weigh themselves less frequently.
Get your thinking hat on. Could be that people who are more disciplined in their diet, are more apt to weight themselves every day. Likely so!
Doing something every day at certain time is habit-forming. This could be good habits or bad habits. Good habits done consistently can lead a healthy lifestyle.  Replacing bad habits with more good ones can outweigh the bad albeit slower for some individuals. Eating healthy 4 days of the week Monday through Thursday is great but if you blow it out Fri, Sat & Sun then you really are only at 60% and it takes 80% and higher for positive and lasting results.
Getting on a scale requires almost no physical effort, and can be done in less than 30 seconds.  Which makes it an easy habit to form. Using the number you get can help guide your day to better choices and not further backsliding.
Despite this, many dieters prefer not to weight themselves daily. I personally use the mirror, how my clothes fit and how I feel to then determine if I want to weigh myself or not. When I look great I want to know what that number is, when I am feeling bloated I also want to know that number. It's really just an average during the week because weight can fluctuate 6-11 pounds for some people. I have a 3-4 pound swing.
People hate to gain more than they love to lose
Behavioral science shows that we are not rational. Have you heard of the cognitive biases is called loss-aversion? Why are we so afraid of losing? Our aversion to loss is a strong emotion. The aversive response reflects the critical role of negative emotions (anxiety and fear) to losses (Rick, 2011). In other words, loss aversion is an expression of fear. This explains why we tend to focus on setbacks than progress.
The same applies to weight loss, but in reverse. Standing on a scale and seeing a pound gained since the last weigh-in can be much more painful than the joy of losing one pound. Just think how far you have come and not how far you need to go. Be present.
Short-term vs. long term weight trends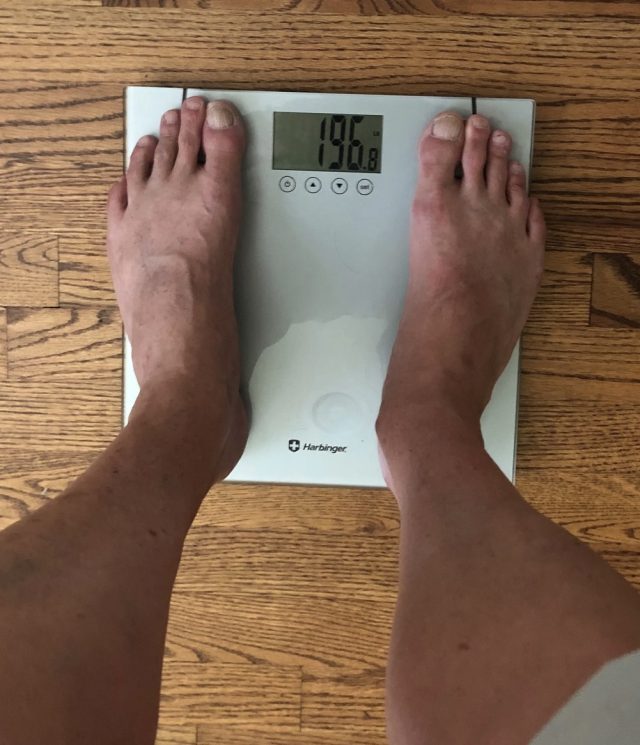 Just step on a scale, record the number, and you're done. If only if we're emotionally that easy.
Some people unrealistically expect their weight to immediately reflect improved health habits. Sorry, the body doesn't work this way. It's much more complicated than a simple action-reaction physics model.
Body weight fluctuates even when strictly sticking to a diet plan. This is due to factors such as hormonal cycles, water retention, exercise, sleep, stress, weather, and more.
Weight swings are to be expected.
This means that after a few days of weighing yourself and seeing the numbers go down, you may have a day or two, or more of weight gain. This can be very discouraging, leading you to stop weighing yourself altogether, and even quitting your diet because "it isn't working".
Play the long game
Some people say that daily weight gain is demoralizing because of the days when weight is up. They weigh themselves once a week. The problem with this approach is that even on a weekly timescale, there may be ups and downs. So if you are going to weigh every day know to calculate the week as an average or even tracking by writing down and if you start seeing an upward tick in weight gain you haven't gone so far off track you can't find your way back. If needed take extra walks after dinner or lunch, no more snacking, no more bits off kids plates, pack your lunch. Take it as a challenge to get control of your own health.
Don't just stop weighing all together, stop drinking water or go on a mini crash diet the day before. Not a healthy pattern.
What Can Happen If You Weigh
yourself every morning, and move on?
The ideal time of the day to weigh yourself is after waking up, before eating anything. Keep in mind if you have a body fat percentage scale that weight is accurate in the morning but your body fat will be higher due to being slightly dehydrated. Body fat measurement is more accurate mid afternoon. Again, though you are just seeing how the numbers trend overall over extended amounts of time.
The attachment of your weight and your value will just be a number and not a life shattering emotion or confidence killer.
If your scale connects wirelessly with your phone, you don't even need to look at the number. You can put some tape over it, if you can't resist the urge to peek. I have had clients many times tell me during assessments not to tell them how much they weigh on the initial assessment. They only want to know the improvement post assessment.
No matter what the number on the scale says, you'll be reminding yourself that you are on the right path, even if there are some detours along the way.
At the very least, this little ritual will remind you to eat a healthy breakfast. I'm all for breakfast. Lots of protein. A shake works best for me and tends to have you less ravenous towards mid afternoon or late at night.
CLICK HERE IF YOU WANT A FREE VIRTUAL FITNESS CONSULT (VALUE $87) or  of our other services listed above. Just give me a call or text at 901-466-6242 and we can get you started with a functional fitness assessment and a few things to do on your own before the Greenville/Travelers Rest area location is up and running (fingers crossed my mid-March or at least get you on the schedule).
South Carolina Energy Fitness relocated site update: As of 2-11-2022. Still shooting for finished by end of Feb. 2022 which means March 2022 we will be painting, putting flooring in and moving the equipment in and start taking new clients. This week I've drafted and consulted a few clients on interior paint colors as well as exterior sign background color and design. Skylights were covered to resolve water leaking issue. I'm told Hvac may be installed by next week. This week I'll be researching some landscaping options. It's a lot to run a business behind the scenes. So looking forward to getting back onsite with clients and feeling the energy of the group and dynamics between clients and trainers in our new space.
Why put off your fitness…..let's discuss your fitness & nutrition needs. All it takes is a call or text to get the conversation started. Maybe you can be one of the charter clients for South Carolina location, LET'S GET MOVING!
If you haven't had a functional movement assessment with a professional observe the way you move different joints and movements with your hips, shoulders, wrists and spine then how do you know you are doing the most effective strength training, flexibility or cardio program? Hire someone like me to get you on track with a program to help you reduce current pain, eliminate pain, improve your current program or enhance your athletic performance.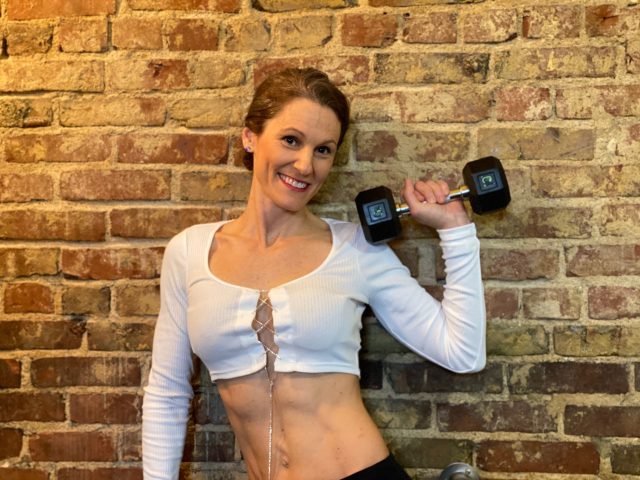 Tonya Tittle, M.S., ACSM, LMT, TPI Level 1
Energy Fitness
Owner/Dir. of Training
(Club 29 Fitness Inc.)