Open Your Hips & Posture…Splits Against Wall With Reach Stretch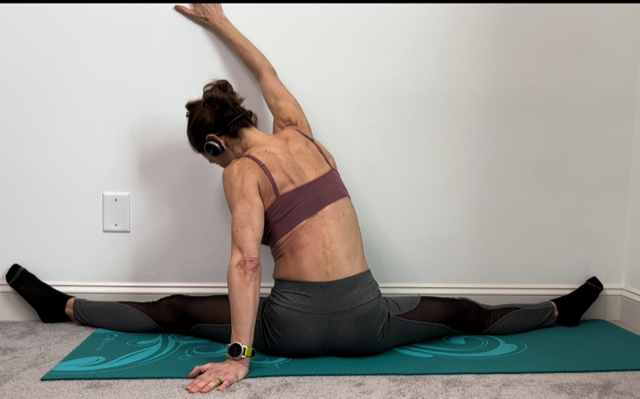 If you haven't tried this stretch then check it out as it can really get into the muscles that attach/verge or cross near the armpit area. If you can't straighten your legs then try sitting on a yoga block or two or a big hearty pillow. Best done without shoes so you can point your toes. Now, if you are crazy tight in your inner thigh muscles then you might feel this more than the side of your body, pecs and lats but you probably need that also. Try doing this stretch a few times a day so you can quickly get reap the benefits. Be sure to sit up tall and breathe.
Why put off your fitness…..let's discuss your fitness & nutrition needs. All it takes is a call or text to get the conversation started. Maybe you can be one of the charter clients for South Carolina location, LET'S GET MOVING, even if it's online for now. Relocated location from Memphis to Greenville (Travelers Rest area), South Carolina now has HVAC installed. Woot! Woot! Darn permits won't be ready till Thanksgiving week for proper construction to begin again.
Who else needs accountability and a fitness professional with my over 30 years of experience getting people feeling and looking great? Semi-private 30 minute personal training via zoom twice weekly can get you on track. Choose from 10 session or 25 session package. invest in yourself.
Get started by CLICKING HERE IF YOU WANT A FREE VIRTUAL FITNESS CONSULT (VALUE $87) or one of our other services listed above. Just give me a call or text at 901-466-6242 and we can get you started with a functional fitness assessment and a few things to do on your own before the Greenville/Travelers Rest area location is up and running.
If you haven't had a functional movement assessment with a professional observe the way you move different joints and movements with your hips, shoulders, wrists and spine then how do you know you are doing the most effective strength training, flexibility or cardio program? Hire someone like me to get you on track with a program to help you reduce current pain, eliminate pain, improve your current program or enhance your athletic performance.
Tonya Tittle, M.S., ACSM, LMT, TPI Level 1
Energy Fitness /Owner/Dir. of Training
(Club 29 Fitness Inc.)
898 N. Hwy 25 Bypass
Greenville, SC 29690 (Travelers Rest area)