Powerful Benefits of Eccentric Training Exercises (the negative motion)
Are you getting the most out of your strength training workouts? Can you take any shortcuts and still get results? If you are reading this and not working out at all then the answer is a resounding no of course. What if you could get stronger, lift heavier and build more muscle faster?
Personal training our clients at Energy Fitness downtown Memphis for over 17 years we have really learned to teach good form and movement. Each person's body is so different in either range of motion, body awareness, fitness level, injury management, discomfort level in muscle burning as well as personality so this topic or type of training will determine which exercises may be best for  you.
Let's talk about slowing down what people think traditionally as the second phase of a movement. This is the eccentric/negative/lengthening of the muscle fibers which is opposite of muscle contraction.
This post is about going SLOW on the eccentric phase only which is moving faster to get into position/concentric phase and execute the lengthening /eccentric phase for 6-10 seconds. Think the down movement on a bicep curl for going slow. I'm not suggesting you do eccentric only training, though. I'm suggesting you take advantage of your body's potential to handle more weight while still doing the full movement.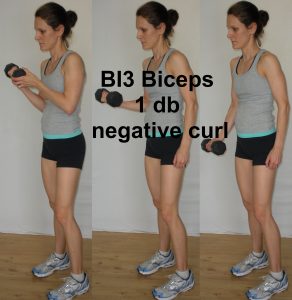 Beware! 
Now…anything truly worth the work will require mental effort and focus. If you are wanting to be mindless in the gym, blow off steam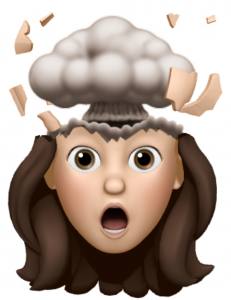 and not be on a program to get results then by all means do it! For those interested in pursuing a transformed and stronger body listen up.
Slow eccentric movements I find to create an intense muscle burning sensation, create more soreness, can be mentally taxing and boring at times.
How you might feel during eccentric training for some muscle groups.  If you can get through those pesky side effects of slow eccentric training you may find that the results produced are remarkable. Oh..by the way don't forget to BREATHE!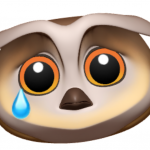 Why so slow it down? 
In the lengthening/eccentric phase also known as the negative that studies have shown that you can tolerate 1.75 times more weight than you can concentrically (examples: lowering bar on bench press, lowering dumbbell on bicep curl, lowering yourself into a squat). If you emphasize the eccentric portion of your lifts, then you're certain to increase muscle growth. Guess what more muscle growth is going to get you?That's right, more strength and that means greater potential for hypertrophy (which is always a bonus) and greater potential to develop power.
Some lifts you will have to have a spotter or use lifting aids such as elastic bands, chains or eccentric hooks. Emphasizing the lowering portion of your lift while still doing the full lift will lead to even greater muscle growth and in turn strength, power and connective tissue development.
The stronger your connective tissue (ligaments and tendons), the greater your immunity to injury.
This one is hard to believe, but there has been a ton of research to show eccentric training actually increases your flexibility. No way, right? Here's how it works. The negative portion of the lift causes growth of your muscle fibers, which increases the length of your muscles by increasing the sarcomeres in series within the muscle. Point in case…client just had knee pain and went to doctor and verdict was tight hamstring in which he prescribed for us to work on eccentric exercises.
more potential there is for greater power development which means explosive movement.  great way to ensure you remain explosive is to super set your heavy negatives with something fast. Here are two examples:

Heavy eccentric squat with low rep box jumps (hold on if necessary as this can be a high injury exercise).
Heavy eccentric bench press with low rep explosive push ups or med ball tosses (spotter advised)

Here's a great article from West Point in which you can see they advise negative exercises when someone isn't strong enough to perform typical exercise: https://westpoint.edu/sites/default/files/inline-images/military/department_of_physical_education/Cadet%2520Candidate%2520Fitness%2520Improvement%2520Program%2520Movement%2520Standards.pdf


Summary
6 benefits of eccentric reps:
Strength is Important For Everything. Studies have shown that your body can tolerate up to 1.75 times more weight eccentrically than it can concentrically. …
Greater Muscle Damage. …
Stronger Connective Tissue. …
You Use Less Energy. …
Greater Flexibility. …
Greater Power.
LIVE IN THE MEMPHIS AREA AND NEED TO BE INSPIRED TO GET INTO YOUR BEST SHAPE, EAT HEALTHIER, WORK AROUND INJURIES, NEED MASSAGE THERAPY, ROCK TAPE, CUPPING, OR DETOX BODY WRAPS & DON'T KNOW WHERE TO START OR NEED TO GET OUT OF THE GYM RUT?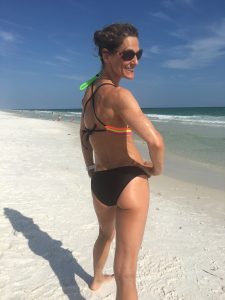 INTERESTED IN OUR
SERVICES AT  552 S. MAIN, MEMPHIS, TN
Tonya Tittle, M.S., ACSM, TPI Level 1 Certified
Owner/Dir. of Training, Energy Fitness (established 2002)
CLICK HERE FOR A FREE CONSULT FOR OUR PERSONAL TRAINING OR NUTRITION COACHING SERVICES (VALUE $87) OR
GIVE US A CALL AT 901-466-6242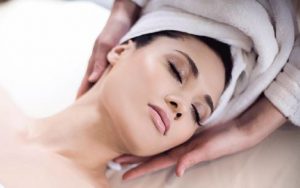 Click  here for information on our Healing Arts Services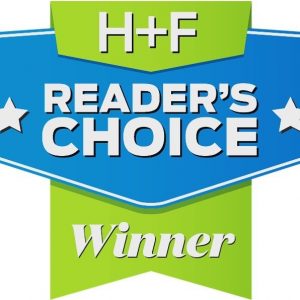 (Massage, Body Wraps, Reiki, Intuitive Healing, Astrological/Birth Charts).
We also have all natural spray tanning, facials & KT/Rock Tape taping.