5 Bikini Body / Glute Power Moves
Time for glute function, anti-flat butt and bikini weather bottoms. I did these videos a while back and they are great exercises. Often we work both sides of the body (bi-lateral training) at the same time which can mean the stronger side always takes over. These are uni-lateral training moves. Shoot for 2 sets of 10-15 reps each side. If you have knee issues and one of the exercises just doesn't agree with you then just omit it and focus on the others.
Go buns of steel!
There are 5 videos/exercises in which they will play one after another. Keep watching for all of them.
Who else needs accountability and a fitness professional with my over 30 years of experience getting people feeling and looking great? Semi-private 30-minute personal training via zoom twice weekly can get you on track. Choose from 10 session intro package plus functional movement screening or 25 session package.
Invest in yourself!
Get started by CLICKING HERE IF YOU WANT A FREE VIRTUAL FITNESS CONSULT (VALUE $87) or one of our other services listed above. Just give me a call or text at 901-466-6242 and we can get you started with a functional fitness assessment and a few things to do on your own before the Greenville/Travelers Rest area location is up and running.
If you haven't had a functional movement assessment with a professional observe the way you move different joints and movements with your hips, shoulders, wrists and spine then how do you know you are doing the most effective strength training, flexibility or cardio program? Hire someone like me to get you on track with a program to help you reduce current pain, eliminate pain, improve your current program or enhance your athletic performance.
Tonya Tittle, M.S., ACSM, LMT, TPI Level 1
Energy Fitness /Owner/Dir. of Training
(Club 29 Fitness Inc.)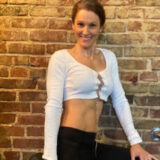 898 N. Hwy 25 Bypass
Greenville, SC 29690 (Travelers Rest area)