Tried This For Reducing Knee Pain? Trigger Point Therapy
I love these self-care tips to help YOU and clients reduce pain. Last week when I was giving 5 massages, I must have had poor body mechanics on my last 2 clients that were super tight in the hips, glutes & IT bands. It took me getting my body into odd positions when them on table to get the right angle to be able to give them what they needed but at my own body's expense. That night my ankle and foot hurt. The next day during my weight training program it was time for me to do lunges in a stepping back (better for the knee) variation. Ouch!!! I couldn't do it so had to bypass that one. I did a few of these below action items and also blading & cupping (yes, I keep in my gym bag) but I didn't get immediate results.  When I got home and before bed that day, I also had to get the ball on my hip and glute and really stretch it for 2-3 minutes on the leg that the knee was hurting as I would feel it was tight and might also be the culprit. I'm happy to report that during a 4 mile run just 2 days later I was able to stop and get in 3 sets of lunges with NO PAIN. Yay!!!
You must keep being the best detective with your body and not resigning to living with pain.
Who else needs accountability and a fitness professional with 30+ years of experience getting individuals moving better, sleeping better, stronger and pain free?
HOW: Semi-private 30-minute personal training via zoom twice weekly can get you on track. Choose from 10 session intro package plus functional movement screening or 25 session package.
Invest in yourself!
Get started by CLICKING HERE IF YOU WANT A FREE VIRTUAL FITNESS CONSULT (VALUE $87) or one of our other services listed above. Just give me a call or text at 901-466-6242 and we can get you started with a functional fitness assessment and a few things to do on your own before the Greenville/Travelers Rest area location is up and running.
If you haven't had a functional movement assessment with a professional observe the way you move different joints and movements with your hips, shoulders, wrists and spine then how do you know you are doing the most effective strength training, flexibility or cardio program? Hire someone like me to get you on track with a program to help you reduce current pain, eliminate pain, improve your current program or enhance your athletic performance.
Tonya Tittle, M.S., ACSM, LMT, TPI Level 1
Energy Fitness /Owner/Dir. of Training
(Club 29 Fitness Inc.)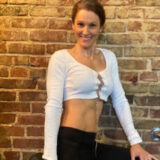 898 N. Hwy 25 Bypass
Greenville, SC 29690 (Travelers Rest area)