Rob's 12 wk & 1 year Transformation. Who else want's it?
Energy Fitness Downtown Memphis loves it when clients follow our advice and implement lifestyle changes. This client contacted us for Nutrition Coaching and then later for Personal Training advice. Rob Clark may have what most would consider a stressful job, Chief Government Affairs Officer of St. Jude and he doesn't make excuses for finding times during the week to get in exercise. We coach individuals to empower themselves to commit to eating healthier and moving more efficient in their exercise programs.
In his video testimonial below Rob discusses since childhood how he has had a condition called Ankylosing spondylitis (pronounced ank-kih-low-sing spon-dill-eye-tiss), or AS, is a form of arthritis that primarily affects the spine, although other joints can become involved. It causes inflammation of the spinal joints (vertebrae) that can lead to severe, chronic pain and discomfort. He has always known that keeping active helps the symptoms.
Be sure to scroll down for before/after pics and videos
Rob decided he wanted to tap the breaks on poor nutrition choices and make healthier and more considerable lasting lifestyle changes. He is already very active on his own doing strength training circuit classes at the Y twice a week and running a few other times a week but he just wasn't getting results he wanted. He contacted Energy Fitness to be prescribed the most effective exercises, stretches and meal plan(s) for his body. We initially did Nutrition Coaching and didn't take pictures but after 6 months of Nutrition Coaching he wanted to again take it to the next level. He purchased a few private personal training sessions which is why we have the pictures dated October. We also did the Titlest Performance Institute Level 1 Functional Screen as he wanted his golf game better. This screen revealed most helpful limited range of motions in his body which was helpful in creating the best program for his goals.
We are sharing in this post his assessment numbers hopefully to inspire you to make a change and inspire you to create better habits. We now take pics even for clients that just get Nutrition Coaching with us. Pictures help us track alignment and posture as well as body weight changes.
Specifics to his exercise programming:
We focused on exercises that were going to tilt his pelvis under to provide a posterior tilt and better his range of motion and hip hinging. We gave him plies (sumo squats), Stationary Lunging back, 1 leg dead lift and specific ab/core exercises that are the same ones we prescribe to clients that have diastasis recti (a separating of the abdominal wall ) which isn't only applicable to women post baby. Many men have this and are doing the wrong exercises to flatten and strengthen the abs.
Rob Clark's results
April 12, 2018 to May 2, 2019 (age 57, height 5'11)
Went from 207 to 180.5 LOST 26.5 LBS (4.5 pounds from original goal)
Lost 4.75 inches (notice this number is not as high as others which is acceptable as he gained muscle and lost body fat) Abdoment was 38.25 now 36.5
Body Fat -went from 28.2% to 18.7% LOST 9.5% (abdomen fat in millimeters went from 43 to 28 and illium/love handles went from 23 to 12, back went from 28 to 17. Where each of us holds fat reveals a cascade of hormonal, insulin, carb intolerance, etc about what's happening in our body.
Flexibility (modified sit and reach test) – went from 1 to 2.5 THAT'S 150% IMPROVEMENT in hip hinge movement)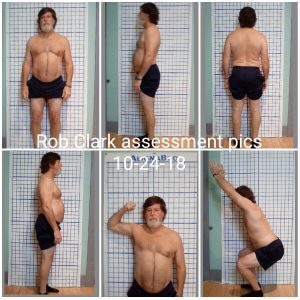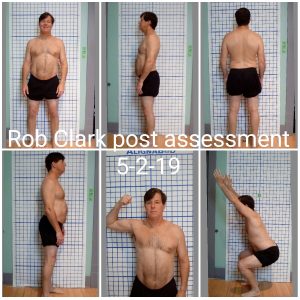 We are still tracking Rob as he calls us for follow up assessments and continued coaching. We're so proud of your results Rob and look forward to your continued success. Thanks for allowing us to share your story.
Live in the Memphis area and need to be inspired to get into your best shape or eat healthier and don't know where to start?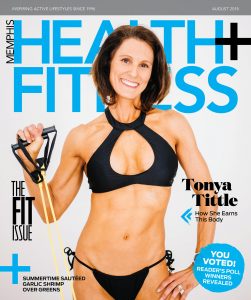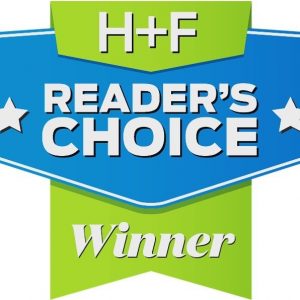 INTERESTED IN THE SERVICES AT ENERGY FITNESS?
552 S. MAIN, MEMPHIS, TN
Click here for a FREE consult for our personal training or nutrition coaching services (value $87) or give us a call at 901-466-6242
Click  here for information on our Healing Arts Services (Massage, Body Wraps, Reiki, Intuitive Healing, Astrological/Birth Charts & Sound Healing Therapy). We also have all natural spray tanning, facials & KT taping.