Memphis Personal Trainer Shows you her Must Have grocery list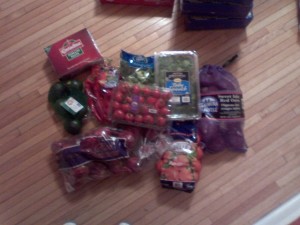 Memphis Personal Tonya Tittle of Energy Fitness
thinks you should steal this grocery list.
Grocery List
Costco
Cold Stuff
Soymilk  Need____ (I buy 8)
Eggs     Need____
(egglands best, 1.5 dozen, I buy 8 to 10- that's 144 to 180 eggs)
Yogurt   Need____ (greek, for my spouse and son)
Shrimp   Need____ (cooked/tail on) this was on my list but I am
off bottom dwellers since reading the book "skinny bitch"
and the gulf oil thing
Salmon Patties Need_____ (frozen section)

Carrots  Need___      Broccoli    Need____
Spinach  Need___      Asparagus   Need____
Small Colored Sweet Peppers   Need____

Fruit/Room Temp Veggies
Bananas  Need____          Tangerines  Need______
Grapefruit   Need_____     Red Delicious Apples   Need______
Purple Grapes  Need_____   Onions    Need____
Vine Ripe Tomatoes   Need_____    Avacados   Need_____
Lemons   Need ____         Grape Tomatoes   Need____



Misc. Food


Pecans / almonds (raw)  Need_____     Peanut butter   Need_____
Mushrooms   Need______    Olives (black)  Need_____
Cherrios   Need____     Tomato Paste (canned)  Need_______
Tomato Stewed (canned/low sodium)   Need______
Chips (for parties/torillla, kirkland brand)  Need_____
Rice Crackers  Need____

Grocery List - Whole Foods
Rice Cheese (vegan)  Need____
Pizza Crusts or Pie Crusts (wheat and gluten free/frozen) Need_____
Tofu Dogs   Need_____
Rice bread with or without flax
(wheat and gluten free/frozen)  Need____
Veggie chile 365 brand (canned)  Need_____
Hot and Tasty Rice cereal (need to cook)  Need______


Not a client and want a Free Fitness or Nutrition Consult (value $87) or
interested in our Personal Training Services click here or call us 901-466-6242.
Check out our customized online training ($40-$80) here:  Online Customized Training
Interested in our Massage or Body Wraps? Click here.