Memphis Trainer secret..thermal girdle for flatter belly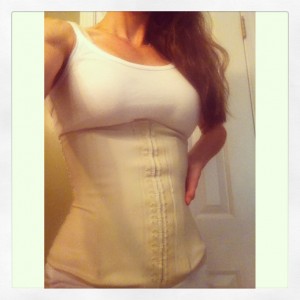 Memphis Trainer Tonya Tittle of Energy Fitness has had 2 big babies (9.2 and 10 lbs… no C-Section) and wants to share with you her trainer secret of using a thermal girdle after each baby to getting back her flat belly.
Here is why and how you too can use the aid of this concept to get you on the path to your own smaller/flatter belly even if you haven't had a baby or had one 8-9 months ago.  However; don't think this article is just about how you can slap on a girdle and burn fat off without doing any cardio or diet changes. Get on the feel and look better wagon!
A Girdle/Corset acts to retract the body by drawing in stretched muscles and provides medical-grade compression to your abdominal area.  Great after having babies OR in conjunction to a weight loss program where you may have loose skin.  Basically wearing the corset helps your skin adhere to your muscles while teaching you to practice good posture.  So if your trying to get a flatter belly and want in on the girdle AKA compression garment (way better than Spanx!).   Check out Tonya's favorite website testimonial's and of course if she's recommending it then it is trainer approved.
Tonya's kids are 7 and 3 now and she still puts it on every once in a while (pic to right) when feeling bloated or getting ready to go to the beach which consists of eating an even cleaner diet, consuming lots more water and eating lots of asparagus to shed some water weight and cranking up the intensity with weight training and cardio.
Women visit here:   http://www.makemeheal.com/affiliates/main/linkCustomer/d62012ff-da9a-4c1d-81b1-c516bd6a58b4 then type in the search box at top of webpage this Slimming Thermal Weight Loss Body Shaper – Firm Control.
Product Description & Benefits: The Slimming Thermal Weight Loss Body Shaper is a superior body shaper that accelerates weight loss through high compression, perspiration and micro massage. This girdle helps you get the figure you always wanted by instantly lifting, shaping and slimming the body and flattening your stomach, waist and hips. To lose weight and reduce waist measurements, it is recommended to wear the girdle between 8 to 10 hours a day. The Slimming Thermal is the only clinically proven girdle that helps reduce waist measurements from 1 to 4 inches within 30 days. The closure is hooks and eyes.  For extra comfort, this shaper is made with latex fabric, features a front hook and eye closure and an exclusive lace design allowing your breast to be in a free and comfortable position. The foundation pieces of the bodysuit are soft and comfortable. The Slimming Thermal Brief – Firm Control reduces immediately your waist and tummy by 1 to 2 sizes while improving your posture. Its firm compression helps the body to eliminate localized and stored fat. By anatomical design, the brief adheres to your body whit ease, as if it were simply another layer of skin.  ***Tonya usually wore a thin tank top under the girdle and found to be more comfortable than just against bare skin.
Men click here for a thermal compression garment (a more manly name for girdle!) http://www.makemeheal.com/affiliates/main/linkCustomer/d62012ff-da9a-4c1d-81b1-c516bd6a58b4 then type in the search box a top of webpage this belly buster 960 model and lots of options will appear for you to decide which is best for you.
Product Description & Benefits: The Men's Belly Buster abdominal binder and supporter provides maximum compression throughout the mid-section. It helps eliminate unsightly love handles, while supporting your back. A side hook and eye closure makes adjusting the amount of compression easy.
Just remember…..Girdles temporarily compress and redistribute fat and skin around the abdomen. When it comes to a flat stomach, diet and exercise — not undergarments — are what count.
Not a client and want a Free Fitness or Nutrition Consult (value $87) or
interested in our Personal Training Services click here or call us 901-466-6242.
Check out our customized online training ($40-$80) here:  Online Customized Training
Interested in our Massage or Body Wraps? Click here.