Energy Fitness Memphis-Ellen's success story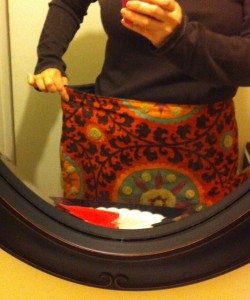 With the help of Memphis personal trainer Tonya Tittle and her staff, Energy Fitness client Ellen Whittington drop down from a size 14 to a size 8!
It all started when Ellen's sister Laura Charlton asked her to be her workout buddy.  The sisters met with Tonya at our South Main gym, Energy Fitness Personal Training Studio, and started toward their leaner, toner and stronger bodies. Ellen is so happy that her clothes fit better now.
Ellen's goal is to be healthy and have energy to chase her kids around. Making time to workout is sometimes a challenge, but Ellen will not hesitate to bring her kids to Energy Fitness (and we encourage it) when she comes in for her sessions. It really is the same thing as taking the kids to their extra-curricular activities.  She is also being a role model for her kids and showing them that you have to take care of yourself. The picture to the right was sent by Ellen via text to Tonya with this comment: "Had this custom made last November (one year of success)"
Read Ellen's success story in the Commercial Appeal here: http://www.commercialappeal.com/news/2012/dec/24/success-story-trainer-helps-ellen-whittington/
Not a client and want a Free Fitness or Nutrition Consult (value $87) or
interested in our Personal Training Services click here or call us 901-466-6242.
Check out our customized online training ($40-$80) here:  Online Customized Training
Interested in our Massage or Body Wraps? Click here.
You'll start feeling results fast!  Some clients comment they see results within the first two weeks!