Energy Fitness Memphis-Laura's success story
Laura Charlton enrolled the help of Memphis Personal Trainer Tonya Tittle to help in achieving her health and fitness goals.
Following knee surgery it was harder for Laura to accomplish her daily activities, so she decided to take charge of her health and fitness.  She asked her sister Ellen to join with her and, together they started training at Energy Fitness Personal Training Studio Downtown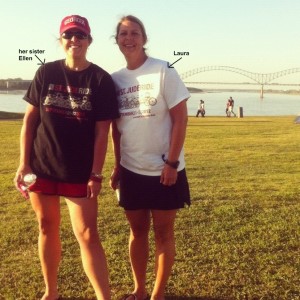 Memphis.
Since she overhauled her diet and took her lunch and snacks to work, Laura has lost 60 pounds and trimmed down from a size 16 to a size 8/10. She feels better than ever and is now a proud role model for her child as to how and why you should take care of yourself.
Not only is Laura more comfortable with her body, her cholesterol is much better (lower) than it used to be.  Being a pharmacist, she knows how expensive medications can be, so she made a choice to invest  in her health as opposed to later on when you get sick and need to pay for medical expenses/medication
You can read Laura's story in the commercial appeal here: http://www.commercialappeal.com/news/2012/dec/31/success-story-sisters-joined-forces-for-journey/
Not a client and want a Free Fitness or Nutrition Consult (value $87) or
interested in our Personal Training Services click here or call us 901-466-6242.
Check out our customized online training ($40-$80) here:  Online Customized Training
Interested in our Massage or Body Wraps? Click here.
You'll start feeling results fast!  Some clients comment they see results within the first two weeks!