Reminder of Simple Kitchen Changes & Habits For Change
Is your kitchen and pantry set up for nutritional success? We don't even cover glass containers in this blog post but they are a must to see what's in the fridge.
Do you have your own stash of food? Is it healthy food or quite the opposite. Have you considered having a separate food storage area for your kids or parents if they live with you? Our 17 year old son had to resort to asking for $50 of his own food out of the grocery budget for his kind of food. Like me, he has trouble keeping weight on. He keeps this extra more carb laden food and snacks stored in a locked storage box in his room to keep away from little brother age 13 who needs less carbs. Little brother has ZERO control on portion sizes and will smooth power through a whole bag of chips or cookies in one to two days and not be at all considerate of making sure others get some as well.
Check out this video I did a few years back on Kitchen Changes and Behavior Change that may be helpful or is just a reminder to re-incorporate these back into your stay on track attack.
Who else needs accountability and a fitness professional with my over 30 years of experience getting people feeling and looking great? Semi-private 30-minute personal training ONSITE or Via zoom twice weekly can get you on track. Choose from 10 session intro package plus functional movement screening or our standard packages from 4.5 months to 12 months (because honestly it's gonna take more than 10 sessions to get you to where you want to be!).
Invest in yourself!
Live in the Greenville or Travelers Rest, South Carolina area? Get started by CLICKING HERE IF YOU WANT A FREE ONSITE or VIRTUAL FITNESS CONSULT (VALUE $87) or one of our other services listed above. Just give me a call or text at 901-466-6242 and we can get you started with a functional fitness assessment.
If you haven't had a functional movement assessment with a professional observe the way you move different joints and movements with your hips, shoulders, wrists and spine then how do you know you are doing the most effective strength training, flexibility or cardio program? Hire someone like me to get you on track with a program to help you reduce current pain, eliminate pain, improve your current program or enhance your athletic performance.
Tonya Tittle, M.S., ACSM, LMT, TPI Level 1
Energy Fitness /Owner/Dir. of Training
(Club 29 Fitness Inc.)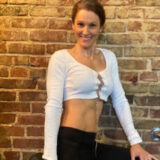 898 N. Hwy 25 Bypass
Greenville, SC 29690 (Travelers Rest area)
WE ARE NOW OPEN ONSITE (AS OF AUG. 23rd, 2023)