Spinal Rotation for Golf & Life. Try these 2 Exercises, Part 1
How often do you perform exercises in a twisting motion? Let's take it a step further… how many do you perform without rotating at the hips? Without rotating my hips…huh? Often times I see clients, as well as myself, doing an exercise and letting the hips open to avoid working on the flexibility of the upper spine.
Test yourself…. Stand up with your feet shoulder width apart and place your hands on your hips. Now try to rotate through your lower back without allowing your hips to move. Not as easy as you thought it would be, huh?
If you don't have the best posture rotating the spine correctly can be challenging.
Think about your lifestyle and exercise routine if you have one. Do you rotate your spine during a strength training session, during sports play, stretching routine or a cardio session? If you run, cycle, walk, jump rope, run stairs, do machines such as elliptical or row machine you are using your body in only one plane (frontal).  You may be creating weakness in muscles and tightening others by avoiding moving your body in different directions.
The 2 exercises are below as pictures & video. They will help you increase spinal flexibility. Make sure to prevent any motion in your hips and lower back.
Towel Low to high Notice I put my knees in to avoid rotating hips. You can see I lack upper body rotational flexibility and need to work on. Try 10 reps each direction. The stability ball is a great way to see improvement as it also works on weight shifting.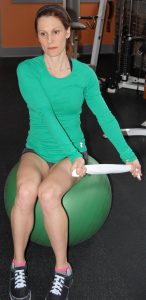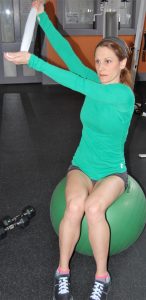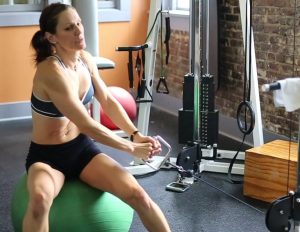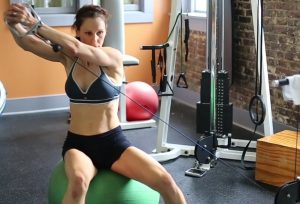 Low to High Chop/Twist (use either towel or if more advanced use medicine ball or cable as pictured left). If it is too hard to stabilize your hips then widen your stance a bit and/or lower the weight.
Outer Thigh presses /Hip Abduction Working the abductors is helpful to help keep the hips open and strong.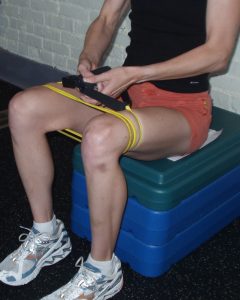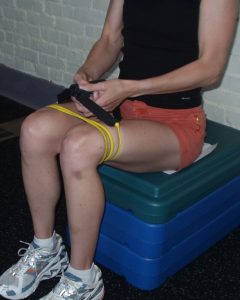 Try a moderate resistance band and do 2 – 4 sets of 50 reps. Make it more challenging by not sitting and be more in a squat position so the quads (front of the upper thighs) can feel the added burn. This exercise is great as it adds that lateral component and can make your golf swing more powerful and runners can feel their hips more open leading to a more efficient running gait. I always have a great run the day after walking 9 holes of golf.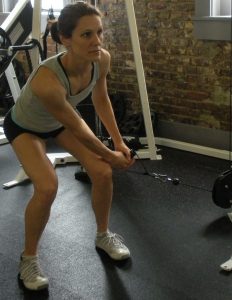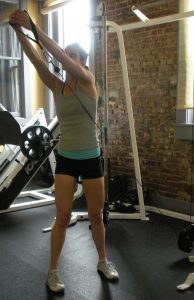 How often should I do these exercises? 
2-3 times per week
See if you notice a difference in your golf swing on on the back swing and follow through. How many of the exercises or sports below can you add to your lifestyle or routine that require some degree of spinal rotation?
Swimming
Canoeing
Kayaking
Tennis
Soccer (with the lateral running)
Golf
Badminton
Bowling
Racquetball
Rollerblading or skating
Baseball or Softball
Ice Skating
Taekwondo / Marital Arts
Basketball (lateral running combined with running forwards & backwards)
Weight training – chop squats, ball knee rotations, lateral shuffles and leg raises
In blog post Part 2 of Spinal Rotation for Golf & Life, I will include pictures and video of me demonstrating a golf conditioning/spinal rotation exercise while a client follows my lead, as well as 2 stretches. You can do these as a warm up before golf or running.
Want to break par or need the expertise & accountability
of a personal trainer & live in Memphis?
Click here for your Free Consult Value $87) or give us a call at 901-466-6242
Interested in our Massage or Body Wraps? Click here.
Don't live nearby or travel a lot? Check out our customized online training ($40-$80) here:  Online Customized Training